Clergy and Staff
The Rev. Larry Handwerk
Assisting Priest
The Rev. Adam Spencer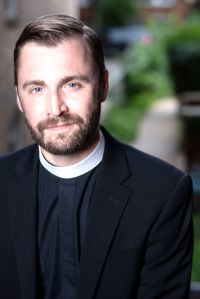 Rector
847-835-0458 |
Adam came to Saint Elisabeth's after serving two years as Associate Priest for Pastoral Care at Saint Thomas Fifth Avenue in New York City.
He grew up in the suburbs of Cleveland, Ohio and graduated from Baldwin Wallace University in 2008 with a Bachelor of Arts degree in Religious Studies. He formally began discernment of a vocation to the priesthood while serving as the Youth and Adult Education Coordinator and Dean's Assistant at Trinity Episcopal Cathedral in Cleveland, Ohio from 2008-2012. He received his Master of Divinity degree at the University of Chicago Divinity School in 2016.
During his time at the Divinity School, Adam served as seminarian at the Church of the Atonement in Chicago and continued serving there after ordination as assisting clergy. He was ordained a transitional deacon in June of 2017 and a priest in June of 2018 at St. James Cathedral in Chicago. Before going to New York to serve at St. Thomas, Adam worked as Manager of Volunteer Services at La Rabida Children's Hospital in Chicago.
Adam is a big fan of The Lord of the Rings, the Cleveland Browns, Ignatian spirituality, and the poetry of Mary Oliver. He and his wife Rose share the rectory with their cat Fawkes.
The Rev. Larry Handwerk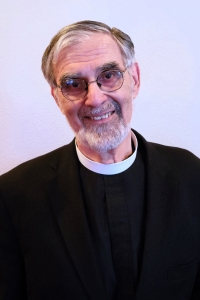 Assisting Priest
After over 50 years of ordained ministry, Larry has covered a lot of territory in church life. At St. Elisabeth's he enjoys being among a group of people many of whom have that broad church experience as well. He also benefits from being with new church folk and seekers who keep him open to new perspectives. He has a passion for scripture, the interface between culture and religion, the 20's and 30's generation and pushing the boundaries of old and new. Outside of church, he enjoys reading, computers, travel, the arts, and his two grandchildren.
Walter Aldrich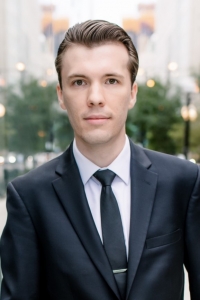 Director of Music
Originally from Sacramento, California, Walter has worked as a professional musician in the Chicago area since Fall of 2018. As a pianist and singer, he performs regularly both locally and around the country; appearing both as a soloist and in several professional ensembles (including Chicago Opera Theatre, Stare at the Sun, Ensemble Affekten, Roots in the Sky, Grant Park Chorus, and the multi-Grammy winning ensemble The Crossing). Church music is an integral part of his life, and he has worked continuously as a professional church musician for over seventeen years.
Walter holds a Bachelor's Degree in Music from California State University in Sacramento, and a Master's Degree in Music from Northwestern University. He appeared as an apprentice artist for two seasons with the Aspen Music Festival, and for one season with the Boston Symphony at Tanglewood – where he starred in the American premiere of a new opera under the baton of Thomas Ades. He currently serves on the faculty of Lake Forest College where he teaches voice and assists with the college choral program.
Outside of music, Walter's greatest passions are traveling (especially road-tripping), attending live performances (with a special love for Opera), exploring galleries and museums, and watching classic and international films.
Pam Green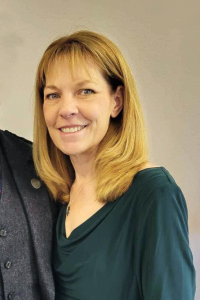 Director of Administration
847-835-0458 |
Pam has been a parish administrator since 2009, and truly loves the work that she does. She was raised in Upstate New York, as a cradle Episcopalian. Her family moved to IL in 2012, and she lives in Gurnee with her husband Brian. Her family is very involved in their hobby of playing in bagpipe bands and she is a member of The Daughters of Scotia, a fraternal organization for Scottish women. She also enjoys reading, counted cross stitch, painting, and crafting.
Elizabeth Clemmitt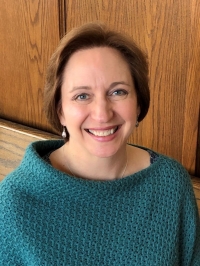 Associate for Spiritual Wellness
(312) 618-1238 |
Elizabeth Clemmitt has been the Associate for Spiritual Wellness at St. Elisabeth's since 2019. She offers opportunities for spiritual development to the St. Elisabeth's community a few times a year through Sunday forums or special offerings during Advent and Lent. She also meets with individuals who are interested in pursuing personal and spiritual growth through the practice of spiritual direction (aka spiritual companionship). They meet in person at St. Elisabeth's once a month for an agreed upon fee, and she is open to meeting over Zoom. Elizabeth is passionate about many spiritual practices including walking labyrinths, using Anglican prayer beads, journaling, yoga, centering prayer (a Christian method of meditation), and spiritual direction. With the encouragement of her spiritual mentors, she completed a two-year training course and received a certificate from the Spiritual Guidance Training Program at Siena Retreat Center in Racine, Wisconsin.
Elizabeth grew up in the Kansas City area, graduated from Colorado College with a Bachelor of Arts, and completed her Master's in Music at Westminster Choir College in Princeton, New Jersey, where she met her husband, Richard. Elizabeth and Richard moved to Wilmette over thirty years ago when he was hired to be the full-time choirmaster and organist at Christ Church in Winnetka. They have raised two wonderful sons while Elizabeth has been working part-time as a music teacher at two area preschools and as the director of the youngest children's choir at Christ Church. Elizabeth loves to share the joy of music with her young students and her enthusiasm for spiritual growth with her adult clients. If you are curious to try an initial meeting or are interested in starting a monthly practice, please contact her at (312) 618-1238 or through the St. Elisabeth's office.